Preface
Thanks for choosing our led lighting products, please read this brochure carefully before the installation and utilization to make sure the proper usage. In case of the convenient access to the reference of other useful information, please safe keep it.
We devote to the high precision of this brochure; the real product appearance maybe has a little difference from the drawings because of our constant improvements. When found the difference, it should subject to the real products.
Summary
LED Grid screen is a new kind of soft display screen which integrated the advantages of the traditional screen-high resolution, high quality and the advantages of led soft lighting bar-flexibility and fold ability. Abandoned the disadvantages of the transmission issue cause by the signal interruption. It is the best choice for indoor and outdoor application.
Characteristic
Good quality LED grid screen, green products with low consumption
Constant currency, long lifespan, soft and fold ability at random
Parallel signal transmission, Anti-static, thunder proof.
Working environment:-40℃~60℃
Standard IP67 protective design,meet requirements for severe circumstance.
Materials
Adopt good quality aluminum for the body,two times glue sealing treatments.
Connector plated by gold, lowest electric resistance, high antioxidant ability.
High ability of water proof and air corrosion, the adaptability of high temperature is strong.
Fixed by stainless screw with beautiful appearance and ,rust proof.
Application
Flexible and soft led display screen, suitable for indoor and outdoor application
Safety Reminder
In order to install the screen correctly, please check whether there exist the damage and the accessories are completed after open the box.
Please check whether the power supply suitable for the media screen or not and whether the combination is proper or not.
In the process of the installation, please don't connect the power, unknown electrical pulse may cause the failure of the electron device.
Outdoor application should considerate the protective methods for thunder and connection to the ground to keep the system safe.
1.Effects Showing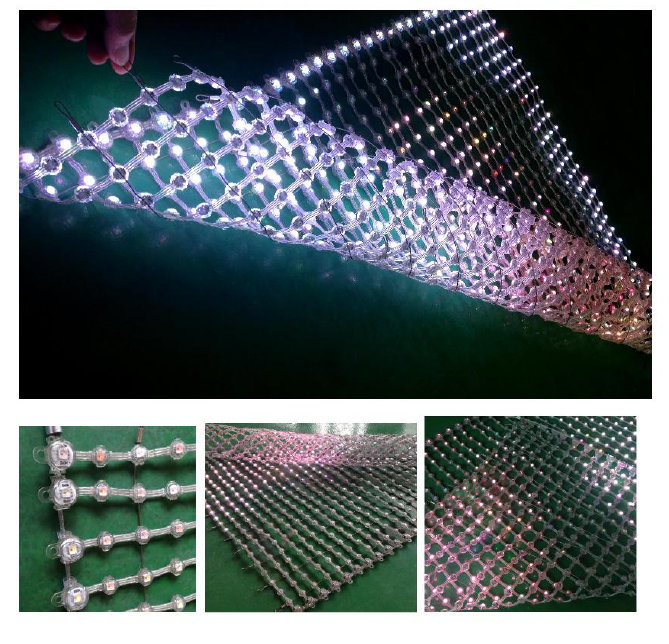 2.Parameter
| | |
| --- | --- |
| Pixel | P40 |
| Unit size | 1280*1280mm |
| Pixel pitch | 32*32 |
| LED color | SMD 3 in 1 |
| Density | 625dots/ sqm |
| Weight | 2.8kg/unit |
| Unit Area | 1.6384 sqm |
| Max Power | 190W/ sqm |
| Brightness | ≥1800cd |
| Frame Rate | 15~75HZ |
| Refresh Rate | ≥2000HZ |
| Driving Mode | Static, constant currency |
| Pixs/unit | 1024pix/ unit |
| Grey level | 16bits*16bits*16bits |
| Color Changing Qty | 16777216 |
| Lifespan | ≥10 0,000h |
| Voltage | DC5V |
| Protective Level | IP67 |
| Humidity | 20%-95%RH |
| Working Temperature | -40℃--+60℃ |
| Certification | CE, ROHS, CCC |
3.Connection Diagram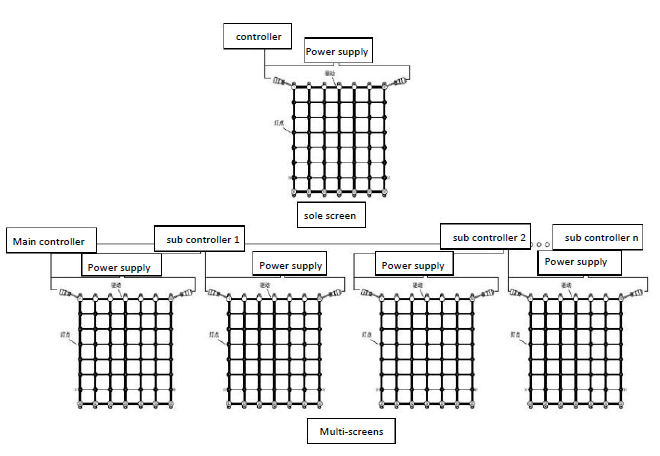 4.Installation and Maintenance
At first you need make the construction drawing ready and confirm the install pattern.
You should considerate the protection and power supply circumstance.
Please pay much attention to the power combination of the screen.
Make sure the installation is correct and recheck after all is ready, then connect power start system.
5.Characteristic of LED Grid Screen
High brightness、low attenuation、high reliability、high constancy.
Display part sealed by Silica gel, omniseal structure protective level reach IP65.
Driving and control part sealed by Silica gel, omniseal structure protective level reach IP65.
Each strip is isolated,if one strip is broken, it won't affect others
High grey level 65536,high refresh rate >1100Hz.
Each unit imbedded control system and power supply inside
Easy to install, fixed by stainless steel and button lock.
6.Cases